Flat Die Pellet Machine
What is flat die pellet machine used for?
Flat die pellet machine, also known as wood pellet machine, is a specialized biomass equipment. It is used to process agriculture waste like sawdust, crop straw and husk into biomass pellets, a solid cylinder with smooth surface. As a renewable and clean energy, biomass pellets are widely used in pellet stove, industrial boiler for heating or power generation.


With people's increasing attention to environmental protection, many countries have made policy to advocate renewable energy and punish fuel pollution. Wood pellet machine emerges as the time requires. It forms high pressure between roller and flat die and transform loose materials into hard pellets, with higher combustion efficiency. Flat die pellet mill can not only supply bio-fuel at low cost, but exempt your trouble with agriculture waste.
Raw Materials Sources
Flat die pellet mill is able to process a wide range of materials, with no need for adhesives. Experienced users usually mix 2 or more different materials to achieve better pelletizing effect. For materials of larger size, a hammer mill is indispensable.


Raw materials for making biomass pellets usually come from farm, orchard, timber mill, oil mill, furniture factory, city and home. The list below shows main raw material sources.
From crop: rice husk, rice bran, wheat bran, maize straw, pineapple peel
From oil crop: peanut husk, EFB (from oil palm), canola straw
From forest: fresh grass, hay, bamboo, alfalfa
From timber mill: Sawdust, wood shaving, wood powder, wood crapes and offcuts
From home: garbage waste paper and plastic
Biomass pellets produced by flat die pellet machine
Biomass pellets are one type of BMF (biomass molding fuel). They are made of agriculture and forestry waste, and processed by crushing, drying, mixing and pressing. BMF appears as pellets, bar, briquette and ball, used as renewable clean fuel. In recent years, BMF is getting more and more popular in developed and under-developed countries.


Biomass pellets, as the most popular BMF product, has the following characteristics: the diameter is from 6 to 8mm; the length is 4-5 times of diameter; breakage rate is less than 1.5%-2.0%; water content under 10-15%, ash content less than 1.5%, sulphur and chlorine under 0.07%, nitrogen under 0.5%.


Advantages of biomass pellet fuel
With higher density and smaller size, it is convenient for storage and transportation. As homogeneous fuel, it is easier to control in burning.
For biomass pellets contains much quantity of volatile, they are easy to fire, with high combustion rate.
The sulphur, ash and nitrogen content in biomass pellets are far less than coal and oil, with little carbon emission, so they are regarded as green and clean energy.
Low cost and high added value. The high heat value and lower cost makes it an excellent substitute for fossil fuel. Meanwhile, biomass energy usually gets support from government. There is no doubt that it has vast business scope.
High efficiency and energy saving. The combustion heat value is more than 4200 Kcal/kg. This means the heat value of 2.5-3 kg wood pellet mill equals that of 1kg diesel. In other words, the cost per unit of biomass fuel is only 50-60% that of gas, and 40-50% that of oil.
Structure & Working principle
Main components of flat die pellet machine
GEMCO flat die pellet machine adopts flat die structure. From top to bottom, it is composed of a hopper, roller, flat die, transmission shaft, gear box, drive engine, slicer and outlet hopper.
The die hole is processed by full-automatic NC drill to achieve high precision. The hole size is designed based on a multitude of research and experiments to achieve the best compression ratio.
The roller, flat die, main shaft, bearing are fully enclosed, which protects them from outside damage.
The gear box is cast with superior gray iron, with low noise and fine damping effect. Gear drive is more efficient than belt drive and worm drive, which has long life-span and avoid belt creep.
The roller and die are made of superior alloy steel, with the hardness of 55-60 HRC. The shell of pellet machine is thickened and enhanced by ribs, effective avoiding body fracture.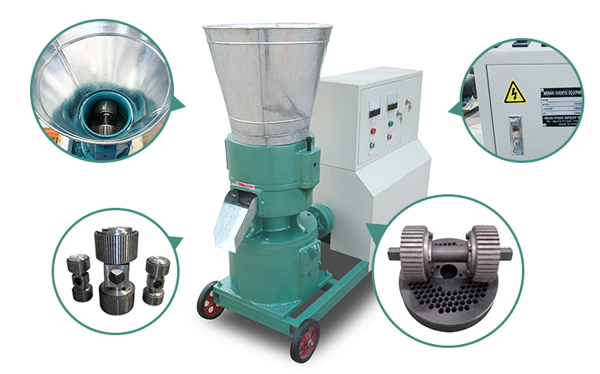 How does a flat die pellet machine work?
When raw materials are fed into pellet machine through hopper, they are distributed evenly on the flat die. Driven by the electric motor( or diesel engine, gasoline, PTO), the main shaft began to rotate and bring along the flat die (or roller). As roller rolls over raw materials, it press them into holes on flat die. The high friction between roller and flat die heat them up to over 80℃, which turns raw materials into paste, and causes protein denaturation. When they get out of the holes, they are molded and strengthened and become cylinders. After a rotating slicer cutting them into certain length, they falls out of the machine through outlet hopper.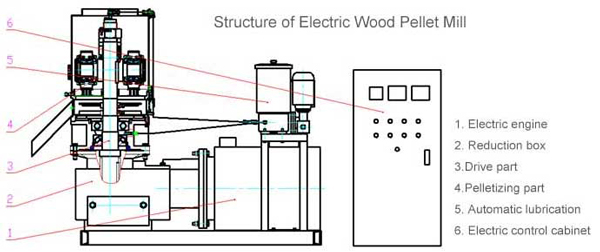 Difference between R and D types
According different working principle, flat die pellet machine can be classified into D type and R type. They differ in motion pattern and transmission components. D-type refers to rotating die and stationary roller, while R-type is on the contrary. Both of them is able to make qualified pellets. As for the price, given the same capacity and power, D-type is cheaper than R-type. Because R-type adopts better design and gearbox.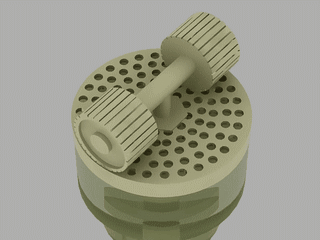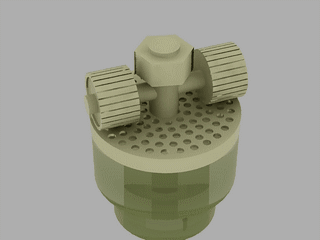 D-type is our standard version. It is more cost efficient and popular with new comers. R-type is regarded as pro version, with smarter roller and die structure and superior gearbox. For the higher price, it fits to clients who has higher requirement and more budget.
Types and Specifications
D-type
Drive Mode
MODEL
POWER
CAPACITY (kg/h)
WEIGHT (nw/gw)

Electric motor
ZLSP-D 150B
5.5kW
50-100
95/110
ZLSP-D 200B
7.5 kW
80-120
200/230
ZLSP-D 230B
11 kW
120-200
290/320
ZLSP-D 260B
15 kW
160-250
320/360
ZLSP-D 300B
22 kW
250-400
350/380

Electric motor
with enclosure
ZLSP-D 150C
5.5kW
60-110
105/125
ZLSP-D 200C
7.5 kW
80-120
210x230
ZLSP-D 230C
11 kW
120-200
290/320
ZLSP-D 260C
15 kW
160-250
340/370
ZLSP-D 300C
22 kW
250-400
425/465

Diesel engine
ZLSP-D 150A
8HP
50-100
180/220
ZLSP-D 200A
15 HP
80-120
210/240
ZLSP-D 230A
22 HP
120-200
280/310
ZLSP-D 260A
30 HP
160-250
330/360
ZLSP-D 300A
41 HP
250-400
410-450

Gasoline engine
ZLSP-150Q
7.5HP
90-120
180-220

PTO
ZLSP-D 150P
≥8 HP
50-100
90-110
ZLSP-D 200P
≥15 HP
80-120
130/150
ZLSP-D 230P
≥22 HP
120-200
175/200
ZLSP-D 260P
≥33 HP
160-250
235/255
ZLSP-D 300P
≥41 HP
250-400
305/325
R-type
Drive Model
MODEL
POWER
CAPACITY (kg/h)
WEIGHT (nw/gw)

Electric motor
ZLSP-R 200B
7.5kW
80-120
215/245
ZLSP-R 300B
22 kW
250-350
540/575
ZLSP-R 400B
30 kW
350-450
770/810
ZLSP-R 420B
37 kW
400-600
700/1100/1200
ZLSP-R 550B
55 kW
500-800
1770

Diesel engine
ZLSP-R 200A
15HP
80-120
320/350
ZLSP-R 300A
41 HP
250-350
850/890
ZLSP-R 400A
55 HP
350-450
1010/1050
Superiority of GEMCO flat die pellet machine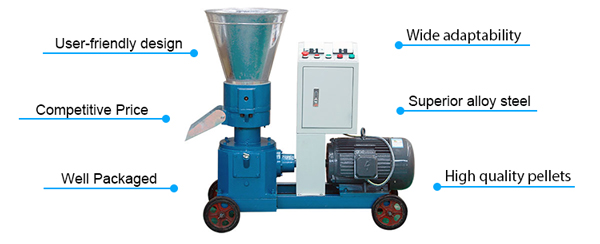 All biomass pellets are molded at one time by our pellet machine. They are fully cured inside, with smooth surface, high hardness and uniform size.
GEMCO flat die pellet mill adopts user-friendly design. Thanks to compact structure and small volume, it is easy to move and doesn't take much place. Equipped with emergency button, it is handy and safe to operate.
All our pellet machines are directly sold by factory. Without agency or resellers, we can realize low price and high quality.
Our flat die pellet machines are well packaged in water-proof plastic bags before delivery. Besides, it is encased in a full woolen box to avoid damage and ensure intact condition.
The core parts, roller and flat die, are cast with superior alloy steel, and processed by vacuum heat treatment. They have high abrasive resistance, stiffness and long service life.
The hole size on flat die ranges from 1.5 to 20mm. They apply to different raw materials. To achieve the best pelletizing effect, make sure the max-length of raw materials is less than die hole size, and keep the water content in raw materials between 10% and 18%.
Warranty and Service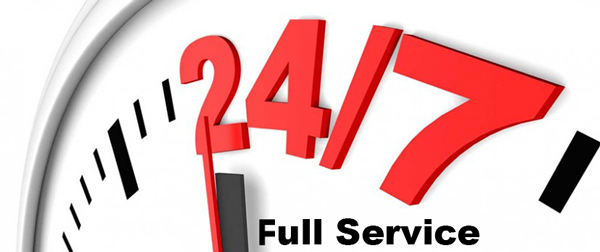 Full service
GEMCO has been regarding quality and service as our principle. To relieve customer's worry and minimum procurement risk, we have built a professional and devoted team to solve your problems. We welcome customer visit and provide cordial reception. Meanwhile, 24 phone call and email is available, our team is at 24h service. Besides, we can offer teaching videos on how to install, maintain and operate our pellet machine.
Quality guarantee
All our pellet mills are guaranteed for 1 year. You are entitled to one-year free reparation since the date of shipment. Beside, we offer life-long after sale service. Our company has obtained ISO9001 and CE standard, with several national patents. All our products have to go through self test, random inspection and routine test to ensure reliability. Only those reach our standard can be delivered to customers, so that they can put it into production the day they receive it.


Spare part supply
The spare parts for flat die pellet machine are mainly roller, flat die and bearing. In the light of different working frequency and raw materials, you need to update them accordingly. GEMCO permanently supply original spare parts. To ensure your regular work, we recommend you to order ahead of time. We accept phone call and e-mail at any time. You can also contact your sale representative. We'll deliver the same day you ordered.