Market Analysis for Making EFB Pellets
Introduction of EFB pellet
Empty Fruit Bunch (EFB) is a biomass waste of palm oil milling process, After being processed by the biomass pellet machine, the EFB pellet obtains high calories more than 4000 kcal/kg to become the new favorite of biomass energy industry. This biomass material can be used for energy generation, composting, mulching, pelletizing, etc. Their high density also permits compact storage and transport over long distance. They can be conveniently blown from a tanker to a storage bunker or silo on a customer's worksite.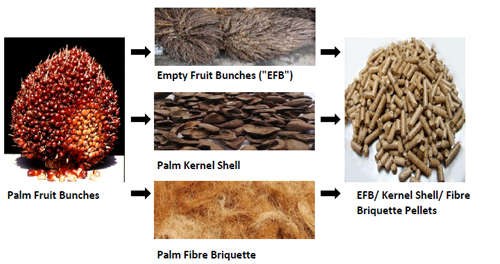 Specification for EFB Pellets
*Moisture < 12%
*Ash Content = 5%
*Volatile Material = 75%
*Carbon Content = 13%
*Heat Energy ≥ 4000 kcal/kg
Main Application for EFB Pellets
*Power Plant
*Boiler
*Home heating
*Cooking
*Centralize Steam boiler
The market analysis of EFB pellet
The data below clearly shows that the palm oil industry of Southeast Asia boasts the largest and richest resources around the globe, especially Indonesia, Thailand and Malaysia, that representing a huge amount of raw material for pelletization. Across the whole Malaysia alone there are more than 400 crude palm oil mills. As a matter of fact, the crude palm oil production is beyond 48 million metric tons per year, Ar the same time, billions of palm biomass residues such as palm empty fruit bunches (EFBs), palm kernel shells and palm frond or leaves gets processed. This clearly shows that there are plenty of palm empty fruit bunches for biomass pellet production.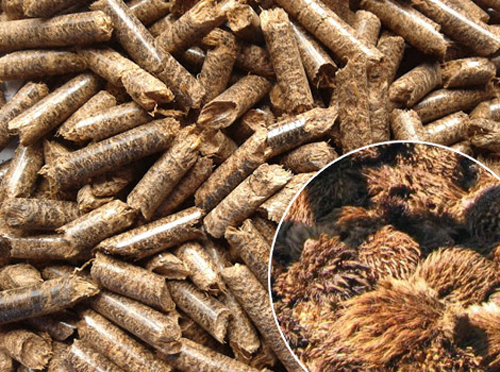 The EFB pellet plant can be built beside a palm oil mill where the palm empty fruit bunches are abundant and easy to transport to cut down the prime cost. The compressed palm EFB pellets are high in density and have a relative high consumption value because of the outstanding performance of the
pellet machine
and the rich fiber and cellulose content in the raw material.
Oil palm harvested area
Fresh fruit bunches
Empty fruit bunches estimated amount
*1.000 ha
% in Asia
*1.000 tonnes
% in Asia
*1.000 tonnes
Malaysia
3620
47.6
75650
51.8
5296
Indonesia
3600
47.4
64225
44.0
4498
Thailand
315
4.1
5250
3.6
368
Philippines
17
0.2
233
0.2
16
China
47
0.6
675
0.5
47
Asia Total
7599(60.3% of world total)
100.0
146063(84.2% of world total)
100.0
10224(84.2% of world total)
The superiorities for EFB pellet in the market
Abundant Palm EFB for Biomass Pellets Processing
As above table shows, palm trees are mainly distributed in Southeast Asia,including Indonesia, Malaysia and Thailand. It not only attracts millions of investors for palm oil industries but also promotes the diversification of the biomass energy industry. According to the data, available palm empty fruit brunches are very rich in the processing of biomass pellets, which is a necessary condition for the commercial processing of biomass EFB pellet industry.
Professional Technical Support for EFB Pellets Making
Similar to other biomass materials, palm EFB pellets processing procedure involves in raw material crushing, drying, pelletizing, cooling and packing. According to different raw material, different capacity and different requirement, we will try our best to supply the most suitable plan to you.
The flowchart of the EFB pelletizing procedures are showing in the below picture.

Low investment and high economic benefit of EFB pellet
As raw material, the EFB is totally biomass waste from palm oil industry, the price of raw material is really low. And the cost of transportation and the pellet processing that is the only thing you should consider about, which means the EFB pellets processing is actually a cost-effective business, it will give you a generous payback. Meanwhile the green fuel sales so hot in bioenergy market and high economic benefit is the biggest motivation for our business. So what are you waiting for, start this now!
It's an ideal alternative for bioenergy and can be used for both commercial and home use. The EFB pellet is not only clean but also renewable. After all, the palm EFB is quite a suitable raw material for biomass pellets processing. And EFB pellets get a good feedback from the renewable green fuel market. If you want to start your EFB pellets business, Please don't hesitate and consulting us now!